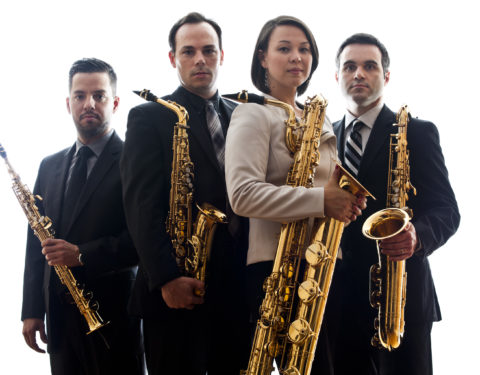 A virtuosic, apocalyptic tour de force for saxophone quartet, The Kansas Rapture was commissioned by the h2 quartet for the World Saxophone Congress in Strasbourg, France in 2015.

The program notes detail its subject matter:
The American state of Kansas is a vortex of fundamentalist religion, military manufacturing, vast prairie landscape, and spectacular, ecstatic weather. The belief in the second coming of Jesus to transport the faithful at the end of days is commonplace, here—yet it's not commonly known that they are already disappearing. The farming and ranching towns of the Kansas prairie are vanishing, and their dusty streets are returning once more to grass and sage. The depopulation of rural Kansas is sweeping away the footprint of humankind, and in their place are returning the bison, the prairie dogs, and countless other iconic species.
The Kansas Rapture, then, is a similar vortex of noise and quiet, landscape and machine energy, sufi ritual and prairie chicken booming. The cantors of the tallgrass invite the prairie to prayer; the Cimarron River runs and dries, the bison hold a zikr in the flint hills, and Allen Ginsberg speaks his Wichita Vortex Sutra into a Dictaphone in the back of a Greyhound somewhere near El Dorado, Kansas. Prairie Dog chirps become the muslim statement of faith. St. Francis stands in the Kansas town that bears his name, and preaches to the strange orange birds who dwell there. The plains were broken. The plains are unbreaking. And the people are being gathered up like dry wheat before a Kansas storm.